Today our Cricket turned 6!
6
!!
I still can't believe it! It's been an adventurous 6 years with this spunky girl! She is everything I could have ever dreamed! Kind, independent, creative, cleaver, super smart, funny and an amazing sister and daughter! We feel so incredibly lucky to have her in our family!
Last weekend we threw a huge Backyard Carnival Birthday Party for both girls! With their birthdays only one month apart and winter just around the corner, we really wanted to celebrate outdoors so an early party it was!
Weeks and weeks of planning and preparing helped make this day special for
our Cricket and Blue!
We hired an amazing face painter and she did not disappoint! I was tempted to cut in line and get myself a little princess mask or butterfly! I loved the spooky faces a few of the kids got! She was incredible! I wish we could think of more occasions to have her come and paint faces! Maybe for Ground Hogs Day!
i worked for days on the decorations! We have a pretty huge backyard and it needed to be filled with colorful decorations!
Solution:
One super duper long homemade fabric Bunting Banner! I swear this thing took me almost 7 hours to make. It's probably the length of a football field but it was my most favorite feature of the entire party!
(Please!!!Someone borrow it!!)
I also created the Carnival entrance!Super easy... A PVC Pipe
frame and three $1 plastic table cloths!
And lastly I made a few dozen Tissue Pom Poms and Fans to hang in the trees!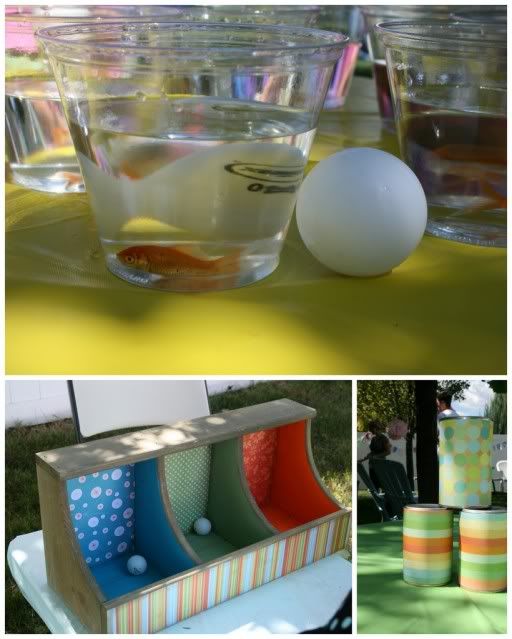 The games were a hit! We had a Goldfish game, Ping Pong Toss, Ring Toss,
Bean bag Toss and Can Game!
I picked up some Harry Potter Blood Pops for some of the prizes!
Check out how cool they made the kiddos look...
Way too funny!
I made Cupcakes for the party from Scratch! Yeah! I'm into baking! Click
HERE
for my killer recipe! My secret for amazing frosting is Jello! I used Strawberry, Lemon and Lime Flavored Jello to get the vibrant color and great taste!
And we could not have pulled it off with out theses amazing helpers!!! Grandma Reena, Uncle Chris and soon to be Aunt Megan were so incredible!!! Thanks a million you guys!
The party went off without a hitch...that is unless you count the fact that my camera batteries went dead and the propane tank was empty 5 minutes into the shin dig! Other
then that it was a hit!!!
Happy Birthday sweet girls!!!! We love you!